If you too are prone to angry, irritated skin, and perhaps like me are blighted with the unfortunate plight of facial eczema- meet this hero product from Modest: the new "no-frills, yes-results" kid on the block!
Modest is a local brand with simple and highly effective formulations from Europe and Japan, free from the harmful ingredients typically seen in products on the market. Having had sensitive, eczema-prone skin since my teenage years, I am always on the lookout for clean formulations that don't irritate my skin even further, but they usually prove to be rather expensive or hard to get hold of locally. When I discovered Modest's products at this lovely, affordable price point, I was most delighted to try them out.
I decided to try out the soothing "Blush-Off" Defense Mask in the middle of a persistent bout of facial eczema. My skin was angry, red, itchy and the skin barrier was definitely broken in certain areas. I would have been more than thrilled for the product to even just subtly take the redness in my skin down a notch (as the name advertises)- but to my excitement, the soothing gel mask more than delivered solid, palpable results.
PRO TIP: For even better results, apply a layer of the serum beneath the mask- only telling you this because it worked amazingly for me in conjunction with the mask!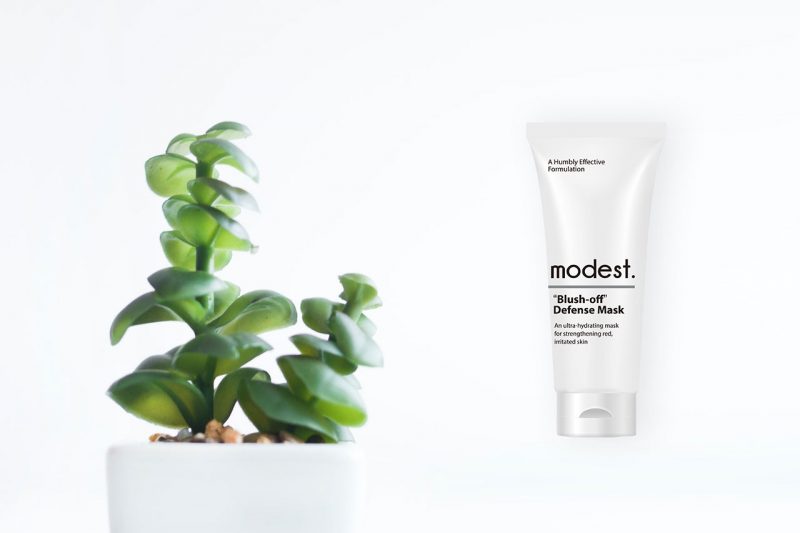 Prior to applying the mask, I washed my face thoroughly with a gentle cleanser to prep the skin. I was tipped to then apply a thin layer of water-based serum to amp up the effectiveness even more (which I did- I used Modest's Hyaluronic Acid + Beta Glucan). I then slathered on the mask generously. (From my experience, it is crucial that you layer on the mask thick! This ensures that the product can work as it's supposed to.) Upon applying the completely transparent gel mask, you get an instant. lovely, slightly cooling sensation. This was more than welcome for my angry, irritated skin, feeling like a cool drink of water. Keeping this in mind, I then took to chilling the mask in my refrigerator prior to future applications for an added fresh, cool kick. The masks even felt ever so slightly minty- which just added to the pleasant experience of my skin physically cooling down.
After letting the thick layer of mask rest on my face for 15-20 minutes as per instructions, the mask had absorbed a fair bit, and I washed off what was left on my face with running water. Upon drying my face, I was, frankly speaking, most shocked by the results that I saw in the mirror. I leaned closer to the mirror for inspection and found that my skin was somehow not only itch-free, but also not red or irritated at all. In fact, my skin seemed to have reverted to an even more supple, hydrated and brightened state.
All in 20 minutes?! Seemed too good to be true! Sometimes good things just happen. I tested and re-tested the mask during subsequent bouts of eczema irritation over the next months, and it delivered the same results without fail every time.
Since then, the "Blush-Off" Defense Mask has become a must-have product in my skincare arsenal to guard against and nip flare-ups. If you have skin prone to redness and irritation, you have to try it out for yourself! No words compare to the excitement you experience when you find a product that finally- actually works- in soothing those skin woes!
By Rachel Leung