*CUE T-SWIFT* I don't know about you, but I'm feeling Twenty-Two AND TIRED OF UNEVEN SKIN TONE. Same? Alright, read on! This little ingredient is here to banish your skin woes.
If you have pesky dark spots from acne, or just dull, sallow skin in general- meet Vitamin B3! Otherwise known as niacinamide (that's "ny-ah-sin-ah-mide"), this bold little vitamin is a whole brightening powerhouse! That's right- it's good for everyone: every skin type, at every age. This highly restorative ingredient not only fades the acne spots and regulates the oily skin one unfortunately gets in their teens (and beyond), but also brightens the sallow complexions that come with staying up to study and hustle in one's twenties, thirties, forties….
Not only is this ingredient proven to help fade dark spots by preventing pigment transfer, it also imparts a G-L-O-W from within by improving hydration, the skin barrier and lessening irritation and redness- a double-godsend for those with sensitive skin and are worried about possible irritation!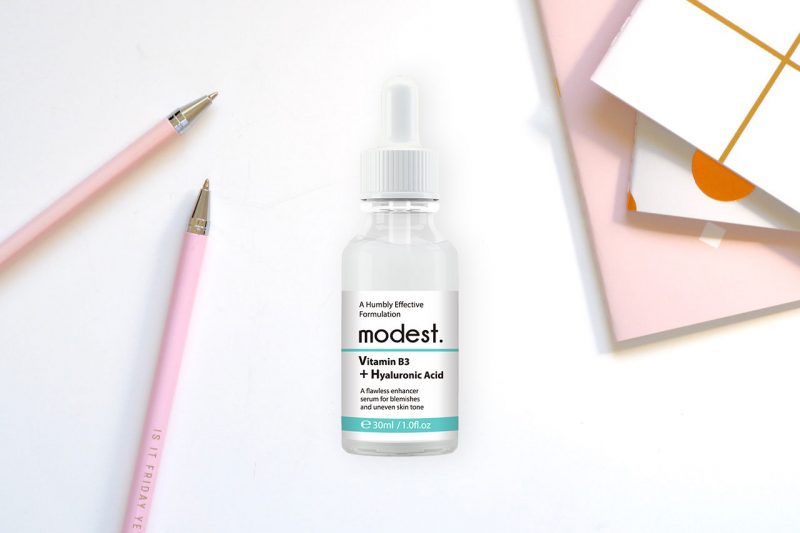 Modest combines Vitamin B3 with the hydrating miracle ingredient Hyaluronic Acid (Need we say more? It holds up to 1000 times its molecular weight in water!) to form their Modest Vitamin B3 + Hyaluronic Acid serum. The resulting product is an incredibly lightweight (yet not watery) serum that hydrates WHILE it brightens! Such synergy. Seeing that it addresses two of my main skincare concerns, I was excited to try the product out after some pesky little period pimples had left their mark on my chin.
The serum was indeed hydrating upon first application, though noticeably thinner than another one of my Modest favourites (see: Modest Hyaluronic Acid + Beta Glucan). It certainly did not leave a sticky residue and was quickly and evenly absorbed by my skin, after which it definitely felt more moisturized. The brightening effects were witnessed the next day, with skin tone being subtly enhanced even just overnight. As I continued using the product, the skin tone improvement was much more pronounced. The acne marks faded a lot faster than I thought they would, and the overall texture of my skin was much smoother, with less blemishes popping up. The sebum in my T-Zone also saw a marked decrease, and I had to blot much less during the day.
All in all I was really quite satisfied by the state of my skin after using the Modest Vitamin B3 + Hyaluronic Acid. Not only did my skin achieve a never-before witnessed state of near-flawlessness with a smoother and more even complexion, it also felt much healthier, with that genuine GLOW FROM WITHIN. Science and results don't lie! Try for yourself and see.
By Rachel Leung