Yes, you can now drink your wine and apply it to your skin. (Almost!) The hero ingredient Resveratrol is a potent antioxidant derived from- you guessed it- grape skin. Not only do they work to combat the free radicals that lead to skin aging, they also lighten any colour pigmentation on the face and even out bumpy texture. Sounds like the perfect ingredient, right? Now combine it with mighty, mighty Ferulic Acid- which nips the damage from aging in its bud! stops dark spots! and! more!- and you get what pretty much is the Fountain of Youth, or as close as one can humanly formulate in relation to the mythical spring.
Modest's Resveratrol 3% + Ferulic Acid 3% is touted as a "Humbly Effective Formulation". It is labelled as "A Water-Free, Highly-Potent Antioxidant Serum", the latter of which I can definitely attest to. A little of this goes a long way in doing a whole lot for your skin! The cocktail of these ingredients beautifies by- wait for it- lightening, brightening, tightening, and much more.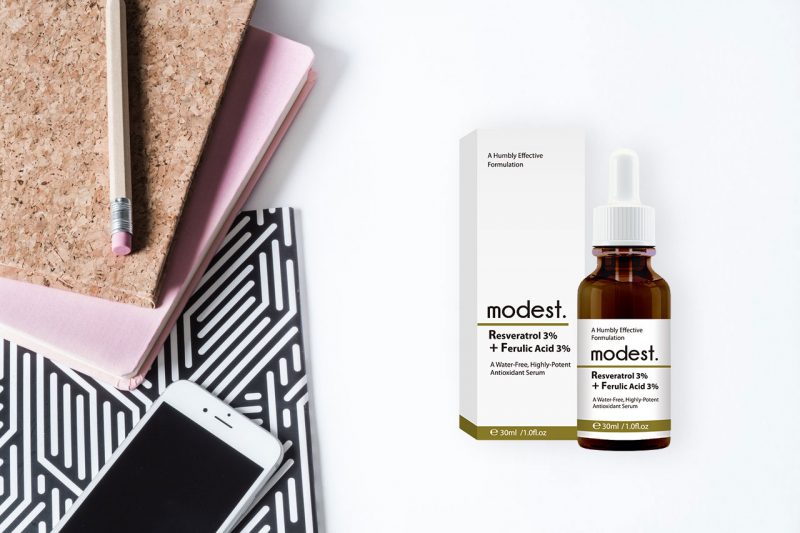 Resveratrol protects the skin from sun damage, delays aging, calms redness and inflammation, which of course, makes it look more even. The part I'm most excited for, however, is how it improves the overall texture- who doesn't want smooth, babies' butt skin?? The dream!!
Ferulic Acid has an even more impressive CV- preventing skin from wrinkling and losing its elasticity; reducing inflammation and redness, and most importantly banishing those darned persistent dark spots and pigmentation!
I used to not pay much attention to anti-aging in my skincare routine, but being halfway through my early twenties has made me realize that it's probably a good time to start! Modest's Resveratrol 3% + Ferulic Acid 3% is a good entry-level anti-aging product at it's affordable price point, and gentle enough (yet still effective!) to use daily. The serum is the consistency of a very very thin oil and heats up just ever so slightly upon application. It doesn't sting or irritate my skin at all, leaving it feeling well-hydrated and moisturized. I usually top it off with a gel moisturizer and I'm good for the night. You can also use it during the day! I can see the formulation working well under makeup.
Overall, the serum left my skin feeling extremely supple and most importantly- smooth and even-toned. It faded old marks from picking at my acne and blackheads (don't do it!), and being highly potent and requiring only a few drops, has lasted me quite well. If you're just starting out incorporating anti-aging into your routine Modest's Resveratrol 3% + Ferulic Acid 3% is a good one to try, hitting all the sweet spots without breaking the bank 🙂
By Rachel Leung