Hyaluronic Acid. Every skincare junkie and their mother's favourite ingredient. But what does it actually do, and how do you use it in your skincare routine? Fear not, hyaluronic acid doesn't need to be finicky at all- meet the Hyaluronic Acid + Beta Glucan from Modest! A double whammy of hydration to plump up dull, dry skin.
Hyaluronic Acid is at its core, what one calls a "humectant". Essentially, it reduces the loss of moisture from skin, which happens due to various environmental aggressors and other factors such as age. What's extra great about Hyaluronic Acid that makes it so different from other humectants, is its well-touted ability to hold up to a thousand times its own molecular weight in water! This means that the Hyaluronic Acid attracts, retains and regulates the optimum moisture in your skin. HeLLOO plump, healthy skin!
What about its counterpart, the lesser-known but just as potent Beta-Glucan? Beta-Glucan is a polysaccharide derived from the bran of oats and other cereal grains. Known for its ability to rebuild the skin barrier and improve its defensibility, there is even evidence that Beta-Glucan helps in healing wounds, and reducing wrinkles/ skin irritation. What a heavyweight!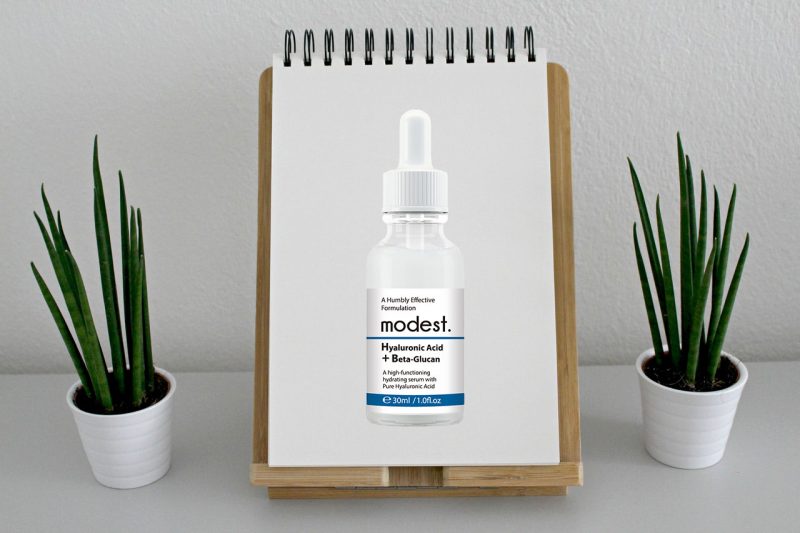 When you combine these two ingredients in a simple, clean, effective formulation- you'd get something like the Modest Hyaluronic Acid + Beta Glucan. The serum is smooth, light, and easy to apply to skin, leaving no tacky residue at all. It absorbs quickly, and leaves the skin feeling smooth, plump and instantly hydrated and moisturized. And that's just the instant results! I found that with continued use (this product became the go-to hydrating serum in my routine, morning and night), that the texture and elasticity of my skin indeed saw a remarkable improvement. Not only was that suppleness restored, it was also enhanced- and my skin became less prone to those pesky dry patches and eczema flare ups overall.
The price point of this humble little hydrating hero is also extremely reasonable. So not only is it good for essentially all skin types, it's also good for all ages as well! Even students will find that this is quite an affordable and effective addition to their skincare routine, delivering results without breaking the bank.
With such visible results, easy use and endearing price point- what's not to love? I'd recommend the Modest Hyaluronic Acid + Beta Glucan not only to every skincare junkie- even their low-maintenance brothers and boyfriends may find this a useful and fuss-free enough step in starting to take care of their skin. After all, everybody needs a little hydrating TLC 😉 <3
By Rachel Leung