You may be trying hard to intake 8 cups of water a day, get at least 8 hours of good-night sleep and treating yourself to a facial mask after a stressful day, but still not getting that glowing and perfect complexion on your skin. So, what went wrong? Before recommending or giving my insight on a particular product, I ask myself this question: what is that one most important lesson I learned about skincare routine? The answer is: it is never too young to start using a serum. They are the best and most effective way to protect, prevent and heal a specific skin problem.
Yes, you may be young, you may cover up your flaws and imbalance skin tone with concealer and foundation, but you are just curing the symptoms rather than the root. Transform your dull and tired skin into clear and glowing complexion with the invigorating formula of Glutathione Skin Whitening Serum from Modest is the secret recipe to keep my skin under control.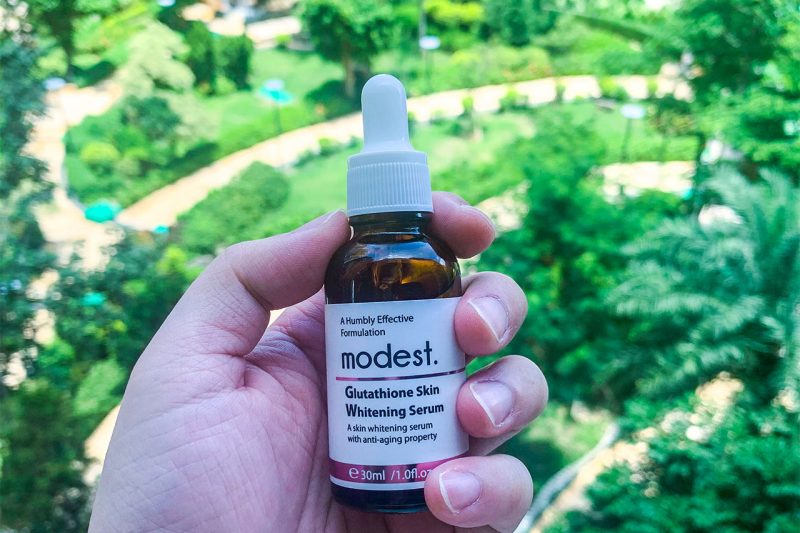 Modest aims to offer effective skincare technologies at its most simple and humble form. It is absolutely affordable for anyone to try, there is zero exaggeration on how their products are formulated, a simple package design as they focus on their effectiveness rather than the look. Their product name is just the main ingredients plus the percentage rather than something fancy and they only use the basic ingredients to nourish the skin and avoid any skin irritations from reacting by using neither fragrance nor essential oils in their products.
This serum is full of glutathione and vitas vinifera, which is a juice extracted from grape. What actually does to your skin is to prevent melanin production and pigmentation. In a nutshell, try to get a hold of this serum as early as possible. The gel is light-weight, absorbs fast and spread evenly on the skin. With Niacinamide added to the ingredient list, it can also reduce bacteria and minimise oil production on the skin while preventing any signs of anti-ageing symptoms.
So, will this serum brighten or whiten my skin? Yes, you will start to see an improvement to your overall complexion's brighten and glow levels as well as it will even out the discoloring on your skin caused by the sun or blemish after 20 days of usage. When is the best time to apply the serum onto my skin? I would recommend you to apply it during your morning skincare routine as it can act as a barrier to UV and air pollutant. With these two strong potent ingredients in one bottle, you are one step away from repairing and restoring your youthful complexion.
By Jacqueline Li