Craving for that "Blink Blink" hydrated and bouncy skin? Modest's Hyaluronic Acid + Beta-Glucan will be the next fan-favourite serum in the market. Give your skin its first defense against wrinkles, dryness while reviving moisture and natural elasticity.
So why choose the Hyaluronic Acid + Beta Glucan serum from Modest over the other HA serum products we see in the market? Well, the price point is absolutely affordable for anyone to try, there is zero exaggeration on how their products are formulated, it says everything on the package, their product name is just the main ingredients plus the percentage rather than something fancy and most importantly, no harmful ingredients like parabens, MIT, mineral oils are added to any of their products. Best of all, Modest supports no animal testing in any of their products!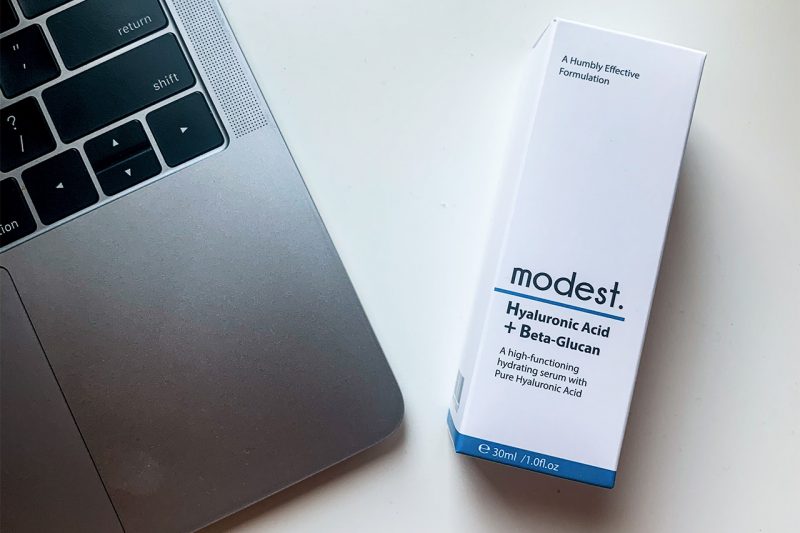 Furthermore, I love how they use Sodium Hyaluronate in their formula and how early it is placed in their ingredient list. With Sodium Hyaluronate added to the serum, it helps to restore the skin's moisture and can revitalise the overall skin texture. So, I can ensure that the Hyaluronic Acid will be able to penetrate into my skin rather than just sitting there on the skin surface. If you ask me to define Modest, I will say it is the secret key to healthy and glowing skin as Modest only uses basic ingredients and nourish the skin with what it needs.
It is just so easy to add HA into your skincare routine and I like to wear it in between toner and moisturiser. The Hyaluronic Acid is a little thicker than toner, but it will give instant hydration to your skin as it can absorb water up to 1000 times its own molecular weight, which allows the serum to penetrate even deeper into the skin. With this little bottle of serum, you are not only getting Hyaluronic Acid, but you have this buddy, Beta-Glucan, which works hand in hand to boost the skin defensibility while soothing any signs of skin irritations.
This serum is absolutely an affordable product that your heart will not ache if you use too much, with only 2 – 3 pumps; you are just drops away from achieving the perfect balance between hydrated and elasticity while plumping away the impurities on your skin.